Overview

Bunion is a prominence of the medial portion of the head of the 1st metatarsal bone. The cause is often variations in position of the 1st metatarsal bone or great toe, such as lateral angulation of the great toe (hallux valgus). Secondary osteoarthritis and spur formation are common. Symptoms may include pain and redness, bursitis medial to the joint, and mild synovitis. Diagnosis is usually clinical. Treatment is usually a shoe with a wide toe box, protective pads, and orthotics. For bursitis or synovitis, corticosteroid injection may be helpful.

Causes
By far the most common cause of bunions is the prolonged wearing of poorly fitting shoes, usually shoes with a narrow, pointed toe box that squeezes the toes into an unnatural position. Bunions also may be caused by arthritis or polio. Heredity often plays a role in bunion formation. But these causes account for only a small percentage of bunions. A study by the American Orthopaedic Foot and Ankle Society found that 88 percent of women in the U.S. wear shoes that are too small and 55 percent have bunions. Not surprisingly, bunions are nine times more common in women than men.

Symptoms
Just because you have a bunion does not mean you will necessarily have pain. There are some people with very severe bunions and no pain and people with mild bunions and a lot of pain. Symptoms for a bunion may include pain on the inside of your foot at the big toe joint, swelling on the inside of your foot at the big toe joint, appearance of a "bump" on the inside edge of your foot. The big toe rolling over to one side. Redness on the inside of your foot at the big toe joint. Numbness or burning in the big toe (hallux). Decreased motion at the big toe joint. Painful bursa (fluid-filled sac) on the inside of your foot at the big toe joint. Pain while wearing shoes - especially shoes too narrow or with high heels. Joint pain during activities. Other conditions which may appear with bunions include Corns in between the big toe and second toe. Callous formation on the side or bottom of the big toe or big toe joint. Callous under the second toe joint. Pain in the second toe joint.

Diagnosis
X-rays are the best way to determine the amount of deformity of the MTP joint. Blood work may be required to rule out other diseases that may be associated with bunions such as rheumatoid arthritis. Other tests such as bone scans or MRI's are not usually required.

Non Surgical Treatment
Wearing the right shoes, using shoe inserts (orthoses) and padding, and taking painkillers can all help to ease your symptoms of a bunion. However, these treatments can?t cure a bunion or stop it getting worse. If you have severe pain or discomfort from a bunion, you may be advised to have an operation to correct it. One of the most important things you can do is to wear the right footwear. You should try to wear flat, wide-fitting shoes with laces or an adjustable strap that fits you properly. You may also want to place a bunion pad over your bunion to give it some protection from the pressure of your shoes. You can usually buy these pads from a pharmacy, or get them from your podiatrist or chiropodist. He or she may also recommend a shoe insert, which can be moulded specifically to your foot. Shoe inserts aim to reduce the pain of your bunion by improving how you walk. You can take over-the-counter painkillers, such as paracetamol or ibuprofen, to help relieve the pain and inflammation of your bunion. Always follow the instructions in the patient information leaflet that comes with your medicine. Medicines give temporary relief but they won?t be able to cure your bunion or prevent it from getting worse. If you have a bunion as a result of underlying arthritis, your doctor may prescribe specific medicines to treat this.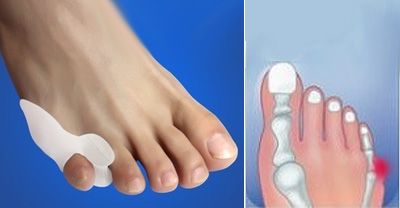 Surgical Treatment
Bunion surgery is most often done on an outpatient or day-surgery basis, usually with a local anesthetic technique called an ankle block. The surgery typically takes an hour or two to perform. Following your surgery, you will stay in the Recovery Room for several hours while the anesthetic wears off. For your safety, you will be required to have someone to drive you home. You should keep in mind that any surgery carries with it very small-but-possible risks of complications such as allergic reaction to anesthesia, bleeding and infection.